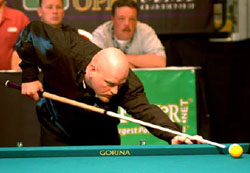 Larry Nevel
Top performing American Professional Larry Nevel just joined the Tiger Products team as "Tiger Cues" Pro Player representative! The 32-year old Beloit, WI resident had this to say "I am very happy and see a very bright future for this relationship". He goes on to say "I am very impressed by the overall playability of Tiger Cues and the Tiger "X" Laminated Shaft"!
Some of Larry's career highlights:
2006 Southern Classic One-Pocket Champion
2005 Carolinas Open 9-Ball Champion
2003 Derby City Classic All-Around Champion
2002 Viking Tour National Champion
2000 Wisconsin State Champion
Larry is currently 12th seed on the International Pool Tour (the 3rd highest ranking American). Let's not forget to mention he came in as a Qualifier!
Look out for Larry next week competing in the Viking Tour National Championships November 15-19, 2006 at "The Pool Room" in Duluth, GA.