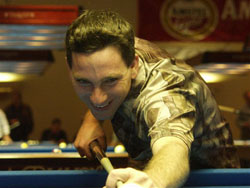 Tommy Kennedy
The SE Open 9-Ball Tour was in action at The Sevierville Billiard Club in Sevierville, TN for the Pechauer Tennessee Classic Open. The field included such top names as tour director Tommy Kennedy, Aaron Frady, Wes Covington, Jerry Grooms and Mike Morgan.
The winners side came down to Kennedy and Darrell Caldwell with Kennedy scoring a hard fought 9-6 win to take the hot-seat.
Caldwell then faced James King on the left side of the board. King got to the hill first, but Caldwell came back and tied the match at 8-8, but scratched on the break and was unable to stop King from running out the final rack.
The final match between King and Kennedy was one sided as Kennedy came out to an early 5-1 lead and never looked back on his way to an 11-3 victory.
Kennedy earned $650 for first, while King settled for $500 in second place prize money. Caldwell and Jerry Grooms filled out the top four spots. Tiffany Stolz was the top female finisher and earned $50 in bonus money.
The SE Open 9-Ball Tour will be at Pockets Billiards in Dothan Alabama on February 11th and 12th for their next event.
Complete Results:
1st Tommy Kennedy $650
2nd James King $500
3rd Darrell Caldwell $350
4th Jerry Grooms $250
5th/6th Daniel Autrey, Wayne Jones $100

Photo courtesy of Diana Hoppe - Pool Pics By Hoppe