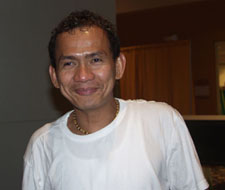 Santos Sambajon
The $10,000 added 9-ball event at Shooters Billiards in Riverside is underway this weekend with a huge field of 110 players.
All the top west coast players are in attendance for this one. Top players in the field include Santos Sambajon, Tang Hoa, Ernesto Dominguez, Ismael 'Morro' Paez, Dan Wallace, Rafael Martinez and 'Surfer' Dave Hemmah.
We will have an update from Riverside Sunday morning and full results at the event conclusion.
Photo courtesy of Diana Hoppe - Pool Pics by Hoppe