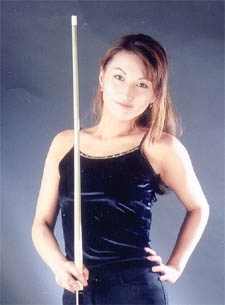 Japanese Sensation Miyuki Sakai
A field of 41 players are in attendance this weekend at The Atlanta Women's Open being held at Mr Cues II in Atlanta, Ga.
The $25,000 in guaranteed prize money has certainly brought out the best of the best with such names as Allison Fisher, Karen Corr, Jeanette Lee, Vivian Villarreal, Helena Thornfeldt, Monica Webb, Gerda Hofstatter and Ga-Young Kim joining top regional players like Tracie Hines, Lisa Marr, Marcia Manuel and Betty Sessions.
Also in attendance are two of the players trying to make their way on to the WPBA Tour this year. 5 time World Snooker Champion Kelly Fisher and Miyuki Sakai, currently ranked #2 in Japan, are both in Atlanta for the event.