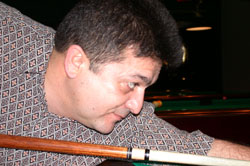 Rafael Martinez went two and out in the Pro Am
The USPPA Pro Am is in full swing at the Sands Regency Hotel and Casino in Reno, Nevada and the top rated players are finding out just how hard it is to live up to those high ratings.

Rafael Martinez had the misfortune of drawing Danny Petralba in the first round and lost 8-5. Things got even worse for Martinez in his next match against Chris Cruz on the one loss side. Cruz is an 85 rated player and Martinez holds a 165 rating. That meant that Martinez had to give Cruz 3 games in the race to 8. Those games proved to be the difference as Cruz won the match 8-7.

Another top rated player, Austin Murphy, also struggled with his high rating. Murphy is a 134 rated player. His first opponent, Emerson Joiner Jr., is a 73 rated player. That called for a 3 game handicap. Joiner ran away with the match 8-2. On the one loss side, Murphy faced Patricia West (a 46 rated player). The 5 game spot that Murphy had to give West was more than enough as West won the match 8-4.

On the other hand, some players are thriving in this handicapped event. Gilbert Arrelano is still unbeaten after wins over Phil Sardo and Danny Petralba. Arellano will face Elmer Diwa in the next round.

Follow all of the match results with our online brackets.