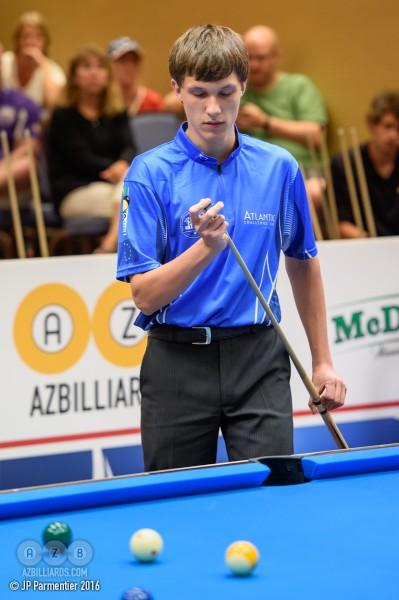 Maxim Dudanets
After two days of play, the 128 player field at the Turning Stone Classic XXVI has been cut in half, with 48 players on the one loss side.
One name that fans might not be all that familiar with on the winner's side is that of 17 year old Russian champion Maxim Dudanets. Fresh off his victory at the Atlantic Challenge Cup, Dudanets is in the states for one more week and hopes to add the Turning Stone Classic Title to his American resume. Dudanets had back to back 9-7 wins over Shaun Wilkie and Tom D'Alfonso on Friday, and is guarantee a cash finish in his first Turning Stone Classic appearance. Preparing for the life of a professional pool player, Dudanets plans on returning to Europe for the Eurotour's Dutch Open in late September and then returning to America for the US Open. He will face Rick Scarlato Saturday afternoon for a spot in the final eight on the winner's side.
Joining Dudanets and Scarlato on the winner's side are the usual field of world beaters. Three time champion Jayson Shaw has lost a total of four games in his first three matches, but Ernesto Dominguez will look to change things for Shaw. Canadian Champion Danny Hewitt will face Joss Tour points leader Jeremy Sossei, Earl Strickland will take on Rodney Morris, Mike Dechaine will play Cleiton Rocha and Karen Corr will do battle with Canadian Alain Parent iin select matches.
Players still fighting on the one loss side include Joey Dupuis, Sean Morgan, Eric Hjorliefson, Ron Casanzio, Shaun Wilkie, Brandon Shuff, Jorge Rodriguez, Luc Salvas, Tom D'Alfonso and Zion Zvi.
Our online streaming coverage of this event will kick off at noon EST, and run until the final 10 pm round. We also have real time scoring and online brackets available at http://www.azbilliards.com/tours_and_events/1-joss-northeast-9-ball-tour/7292-turning-stone-classic-xxvi/live/.