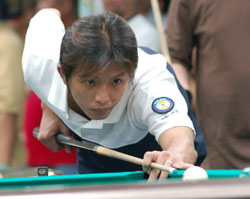 Hsun-chen Lu
There was more intensive action at the Star Billiards Center at Quezon City yesterday as the 2006 Philippines World Pool Championship Qualifying Event completed its penultimate day.
In the afternoon event it was Lu Hsun-chen who took the honours and he becomes the 15th Taiwanese player to take his place in this Saturday's starting line-up at the Philippines International Conference Center.
Lu, who will be making his WPC debut, bested Israel Rota of the Philippines in the final and will take his place in Group 12 alongside American Rodney Morris, Chile's Enrique Rojas and Jorn Kaplan of Germany.
The other spot was won by seasoned WPC vet Tan Biong Toon of Singapore. Tan will be making his sixth consecutive World Pool Championship appearance and he will be looking to improve on his previous best finish of reaching the last 64.
Tan got the better of another Filipino in the final match of the day, as he beat local hope Jharome Pena. The Singaporean will compete in Group 31 headed by seeded player Markus Juva of Finland.
In other news, Frenchman Benjamine Belhassen has withdrawn from Group 13 through illness and this spot will now go back to the Qualifying Event.
Play continues through Wednesday 1 November with five more spots to be decided.