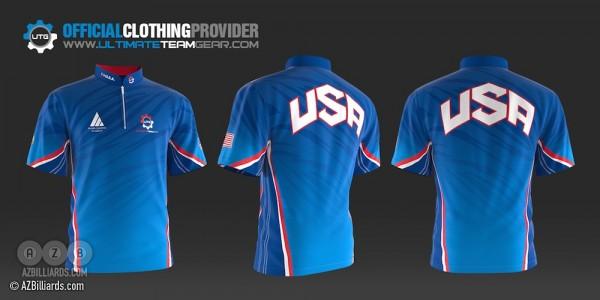 September 28, 2015 (Denver, CO): The Billiard Education Foundation (BEF) is thrilled to announce Ultimate Team Gear (UTG) as its Official BEF Jersey Provider for its upcoming youth billiard events. First of the series is the 2015 WPA World Junior 9-Ball Championships in Shanghai, China in November. The cutting edge clothing manufacturer has created a unique, patriotic design for this event.
"We are honored to provide the best quality sublimated jerseys on the market to the U.S. junior team at the upcoming WPA World Junior 9-Ball Championships. We look forward to a long-lasting relationship with the BEF and are proud to be supporting the future of the sport. Go USA!" said Charles Peterson, CEO of Ultimate Team Gear.
Not only is the company supporting the foundation by outfitting the junior U.S team and leader but in an effort to support the individual fundraising efforts, these specially designed jerseys are also available for pre-sale:
1. Order directly from one of the 16 U.S. players.
These custom jerseys retail for $79.99 and UTG will be donating 25% of all sales from this design. 10% will go to BEF programs and 15% will go to support the travel fund of one of these 16 deserving U.S. team players:
1. Chris Robinson, age 17 (Ventura, CA)
2. Joshua Franklin, age 17 (Creve Coeur, IL)
3. Zachary Gurganus, age 18 (Marrieta, GA)
4. Nickolas Kline, age 17 (Prescott Valley, AZ)
6. Jacob Watson, age 17 (Tyler TX)
9. Hannah Hohn, age 17 (Ethan SD)
10. Michelle Jiang, age 15 (Harvard, MA)
11. Hailey Fullerton, age 15 (Lake Park, MN)
12. Ashley Fullerton, age 14 (Lake Park, MN)
13. Nathan Childress, age 14 (N. Chesterfield, VA)
14. Kaiden Hunkins, age 13 (Waukesha, WI)
15. Lukas Fracasso-Verner, age 15 (Wallingford, CT)
16. Daniel Sardoncillo, age 14 (Puyallup, WA)
About the Billiard Education Foundation (BEF)
The BEF was formed in 1993 as a 501(c)(3) nonprofit charity committed to promoting a lifelong love of pool and building the next generation of players through youth programs and academic scholarships. Visit billiardeducation.org or call (303) 926-1039 to learn more about junior billiard programs in your area.
About Ultimate Team Gear (UTG)