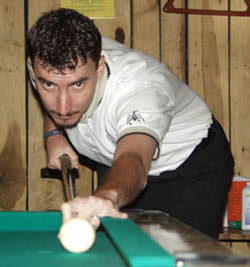 Johnny Archer
If Mika Immonen is going to defend his title at the 3rd Annual Predator Central Florida Open, he is going to have to do it from the one-loss side.
Immonen fell to Doug Young on Saturday. Young is an up and coming player from Texas. Young jumped out to an early 6-2 lead against Immomen, but Immonen fought back to 8-8 before Young put the match away 9-8. Young will face Rodney Morris in his next match.
Johnny Archer stayed on the winners side, but had to get by a very determined Josh Degler to do it. Degler led for the majority of the match, before Archer turned it on and pulled away for the 9-7 win. Archer will face 'Mighty' Max Eberle next.
Sarah Ellerby is the sole female left in the field. After losing her first match to Bill Ferguson, she has scored wins over George McClanahan and Nomar Paula. She will face Joe Kabalakshana next.
Brackets are online with all of the match results.
Photo courtesy of Diana Hoppe - Pool Pics by Hoppe