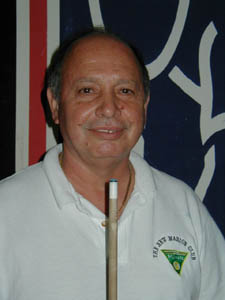 Edgardo Ramirez
The Predator Central Florida Pro Open winners side now consists of 4 players including Danny Harriman VS Charlie Bryant and Johnny Archer vs Buddy Hall.
The first big name to go out was Cory Deuel as he was eliminated by Puerto Rico's Edgardo Ramirez. Deuel was down the whole set up to 8-6, and then he made a charge to tie it at 8-8. But a miss on a slightly tough one ball gave Edgardo a chance to run out which he did.
Some players who forfeited were Luis Viera who came late, and Mika Immonen. This was the first time Immonen has ever forfeited as he misread his time. Hall was awarded the win over Mika(this was the first time Hall has advanced past Immonen since 1998 in Las Vegas Camel Tour 8-Ball Championship which ends Mika's 6 year streak over the Rifleman)
Also returning on Sunday on the losers side are Thorsten Hohmann, Rodney Morris, SHannon Daulton, Tommy Kennedy, and Charlie Williams.