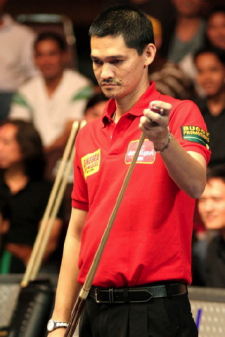 Ronnie Alcano
After six days of play, the 33rd Annual US Open 9-Ball Championship is now down to just four players.

On the winners side, last years runner up Ronnie Alcano will face 2001 runner up Mika Immonen. Both players have been on top of their games all weeklong and have taken down every opponent placed in their path. Immonen has possibly been the best player all week and has wins over Nick Varner, Shawn Putnam, Jose Parica and Johnny Archer to his credit. Alcano has shown the form that took him to the finals last year and has notable wins over Mitch Ellerman, Tyler Edey, Lee Van Corteza, Francisco Bustamante and Rodney Morris.

On the one loss side, Warren Kiamco will face Johnny Archer. Kiamco lost his second match of the event, but has cruised through the one loss side with notable wins over Daryl Peach, Lee Van Corteza, Robb Saez, Nick Varner, Tony Chohan and a come-from-behind win over Rodney Morris in his last match of the night. Archer had a much shorter route to the final four as he stayed undefeated until Friday when he dropped a match to Mika Immonen. Archer came back with an 11-8 win over Corey Deuel to earn his place in the final four.

Matches get underway at 1pm ET on Saturday and will continue at 3pm ET and 7pm ET.

Follow all of the results with our online brackets and follow the matches while they are happening with our real time scoring page.