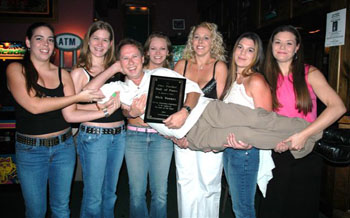 Nick Varner being attended to by the Fast Eddies Beauties
The 2005 Carolinas Open One Pocket Division is rapidly coming to an end with just four players left fighting it out for the $2500 first prize.
Festivities on Wednesday night included Nick Varner's induction into the onepocket.org Hall of Fame. Varner is a former world champion in one pocket, as well as 9-ball, 8-ball, Banks and Stright Pool. He had been sidelined the last few months after surgery, but looked like he hadn't skipped a beat as he powered his way through the winners side. Varner did finally lose to Mike Serber for the hot-seat and is now waiting for an opponent on the one-loss side.
That opponent will either be defending one pocket champion Scott Frost or Gabe Owen, who are facing off Thursday morning.
Diana Hoppe is at the event and we have a small photo gallery from her online now. The 9-ball event gets started on Thursday afternoon and we have brackets online from both events now.
So far, the event has been a great success with the folks at Fast Eddies in Goldsboro running a fantastic event. Ronald Greer is on site handling cue repair and everyone is having lots of fun.
Photo courtesy of Diana Hoppe - Pool Pics By Hoppe