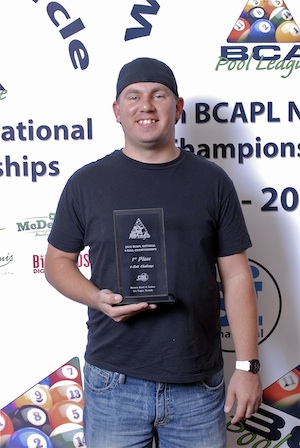 Mitch Ellerman (Photo courtesy of Fred Stoll)
The 36th BCAPL National Championships rolled into the Riviera Hotel and Casino Wednesday, May 10th. Approximately 7,000 players congregate each year in Las Vegas to compete in the event known as "The Greatest Pool Tournament in the World."
Produced by CueSports International (CSI) and taking place over 11 days, the group of events include; 23 BCA Pool League (BCAPL) divisions, three USA Pool League (USAPL) divisions and two professional tournaments (the 13th US Open One Pocket Championship and the 4th US Open 10-Ball Championship).
The BCAPL competition began with three 9-Ball singles events: the Men's Open 9-Ball Singles, the Women's Open 9-Ball Singles and the 9-Ball Challenge.
The Men's Open 9-Ball saw a full field of 256 players compete for over $15,000 in prize money.
Daniel McKenney
(league #1073) from Texas beat out
Matt Beckwith
(league #23) from Wisconsin for the $2,100 first place check.
The Women's Open 9-Ball Singles had 83 competitors. Jennifer Polik (league #1152 and 719) from Michigan reigned as the winner beating Valerie Franiel (league #497) from Alberta, Canada and taking home the $900 first place prize. Both 9-Ball Open events followed a single elimination best two out of three sets per match and are only for open rated BCAPL league players and CSI player members known to be open level.
The 9-Ball Challenge welcomes both league and CSI player members of all ratings. The more traditional double elimination race to 7 format event had 147 entrants. Known to attract a roster of seasoned players, this year's champion was Arizona top gun
Mitch Ellerman
. Also a former
Jay Swanson
Memorial winner, Ellerman pocketed $2,600 and only lost a total of 16 games out of 9 matches beating out
Marc Vidal
-Claramunt, Nick Malaj,
Melissa Little
,
Ramesh Gokhul
,
Phil Burford
, Heath Bartley and Chad Lovelace.
As the 9-Ball Singles competition concluded, the Scotch events began with the Open Scotch Doubles kicking off May 11th at 7 pm. This year a new Advanced Scotch Doubles division was added and it and the Master Scotch Doubles started Friday, May 12th. All Scotch Doubles divisions will conclude Tuesday, May 15th.
Saturday saw the start of the highly competitive BCAPL Singles 8-Ball divisions. There are 11 total divisions and 2,295 entrants in the 8-Ball singles competition. The Grand Master 8-Ball Singles will conclude today and the other 8-Ball singles divisions will conclude Tuesday.
To view online all of the brackets for the 36th BCAPL National Championships, the 2nd USAPL National Championships, the 13th US Open One Pocket Championship and the 4th US Open 10-Ball Championship visit the CueSports Tournament System at www.ctsondemand.com. You may search a player or team by name or can view by division or tournament.
For more information about the BCAPL visit www.playbca.com.
CueSports International (CSI) is dedicated to creating more choices for all players. In the past seven years CSI has directly paid out approximately Seven Million Dollars to players. CSI is the parent company of the BCA Pool League and the USA Pool League. CSI also produces independent events such as the US Bar Table Championships, the Jay Swanson Memorial, the US Open One Pocket Championship and the US Open 10-Ball Championship. Visit www.playcsipool.com, www.playbca.com and www.playusapool.com for more information about CSI and its divisions.
CSI leads the billiard industry in the development of technology. For more information on the state-of-the-art software systems for league and tournament management visit www.leaguesys.net and www.ctsondemand.com.