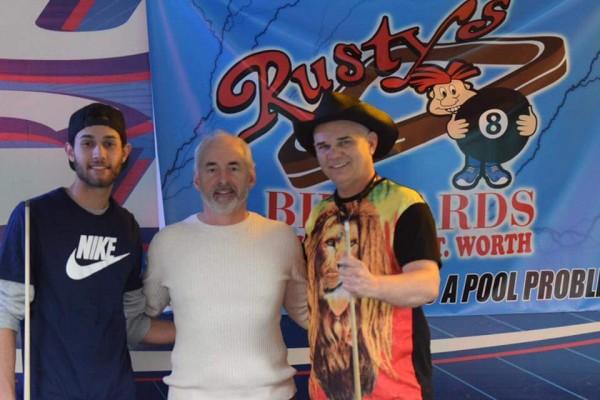 CJ Wiley, Paul Guernsey & Isaac Leyendecker
If attendance at a premiere tour stop is any indication, the newly-established DFW 9-Ball Tour is off to a good start. Formed after the retirement of
Melinda Bailey
's Omega Billiards Tour, and losing very little time in transition, the DFW (Dallas/Fort Worth) 9-Ball Tour opened its already-solidified schedule of 12 events with a $1,700-added stop at Rusty's Billiards in Arlington, TX, on the weekend of January 13-14. The venue played host to an opening field of 93 players, out of which emerged
CJ Wiley
, who was defeated in the hot seat battle by
Paul Guernsey
, and returned from the semifinals to win both sets of a true double elimination final and claim the tour's first title.
Wiley, racing to 9, and Guernsey, racing to 8, advanced to the winners' side semifinals having given up an identical average of racks per opponent (3), earned in different ways. Wiley opened his campaign with two 9-3 wins over
Juan Batista
and a 9-1 victory over
Steve Raynes
. He then gave up two racks to Jessie Wilcoxson before
Tony Sulsar
chalked up six against him in a winners' side quarterfinal that advanced Wiley to a winners' side semifinal against Jersey
Jack Lynch
.
Guernsey's track to the winners' side semifinals would see him give up three racks to
Garrett Dalton
and one to
Monica Anderson
before he shut out Scott Forgason. An 8-4, winners' side quarterfinal win over
Steve Horne
was followed by a narrow, double hill win over
TJ Davis
, which set Guernsey up to face
Isaac Leyendecker
in the other winners' side semifinal.
Guernsey sent Leyendecker to the loss side 8-2, as Wiley was busy sending Lynch west 9-1. Guernsey claimed the hot seat (and his last match win of the event) 8-6 over Wiley, and waited on his return.
On the loss side, Leyendecker drew Sulsar, who, following his loss to Wiley, had shutout
Peter Villatoro
and eliminated Curtis Caldwell 8-5. Lynch picked up
Robin Barbour
, who'd gotten by Wilcoxson and
Daniel Herring
, both 7-3.
With Leyendecker racing to 6, and Sulsar racing to 8, the two locked up in a double hill battle that eventually (6-7) sent Leyendecker to the quarterfinals. He was joined by Lynch, who'd defeated Barbour 7-2. Leyendecker advanced one more step, defeating Lynch 6-4, before having his run stopped by Wiley 9-2 in the semifinals.
Wiley and Guernsey pretty much left it all out on the table in the opening set of the true double elimination final. They battled to double hill (Wiley ahead 8-7), before Wiley finished it to force the second set. Wiley edged out ahead in that second set and stayed there, completing his single-loss run with a 9-5 win that earned him the DFW 9-Ball Tour's first event title.
Tour representatives awarded $50 to the event's top finishing female, Ricki Casper. They also thanked the ownership and staff at Rusty's Billiards, as well as title sponsor Predator Cues, JB Cases, Dallas Eightball League, Outsville (AccuRack), Fargo Rate, BCAPL/CSI, and Internet Marketing Solutions. The next stop on the DFW 9-Ball Tour, scheduled for February 17-18, will be hosted by Billiard Den in Richardson, TX.