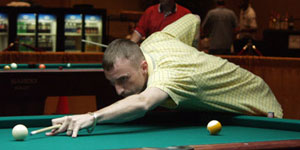 Shaun Wilkie
Shaun Wilkie scored back-to-back wins over 'The Earthquake' Keith McCready to remain undefeated and won the Falcon Cue 9-ball tour event at Orange Ball Billiards in Rockville, MD.
Wilkie made his way through a field of 71 players and took the hot seat with a 9-5 win over McCready. McCready dispatched Ryan McCreesh on the one-loss side to set up the rematch in the finals.
The finals featured a number of safety battles and kicking contests as McCready got out in front early, but McCready was not able to hold on as Wilkie won four straight for a 9-7 victory.
Wilkie collected $1100 for the win, while McCready took home $700 for second. McCreesh and Jim Henson filled out the top four positions.
The ladies division saw Sueyen Rhee come back from the one-loss side and defeat Amanda Smith 7-4 and 7-6 in the double elimination finals. Rhee lost to Amanda Pasko on the winners side, but defeated Pasko on the one-loss side to get to the finals against Smith.
Rhee collected $360 for first and Smith took home $230 for second.
The Falcon Cue Tour will be at First Break Café in Sterling VA on July 19th - 20th for their next event. Complete brackets and payouts from these events will be available on the Falcon Cue Tour site at www.falconcuetour.com/.
Photo courtesy of Diana Hoppe - Pool Pics by Hoppe