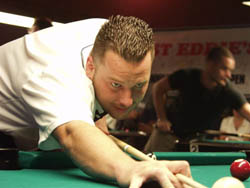 Dennis Hatch
The excitement never ends at the Windy City Open and today promises to bring more of the same. Seventeen of twenty-two events have concluded and the final event, a scotch doubles event, will start at noon today. Also on the agenda for today is the conclusion of the Woman's and Open Team Events, the WCO Women's 8-Ball Event, and the main event, the WCO Open 8-ball.
Just a few exciting match up's of the day will be Dennis Hatch taking on Shane Van Boeing, and Jamie Fenton vs. John Smith (Noon Today) to advance to the hot seat final of the WCO 8-Ball Open. The B-side gets even tenser with four rounds to go. Jesse Bowman tries to stay alive with a match against Tom D'Alfonso (11AM).
The Ladies will get underway at noon today with Amy Latzko playing Sabrina McCormick for forth place and Pam Patton playing Angie Voorhies for the hot seat.
The team event finals for both the men and women's teams will get underway at 1pm and 2pm respectively. The point totals in the 18 games formats round robin Women's bracket will send the top two point holders to the finals. It is a tight race for the second spot and only the 3rd Degree Burn Team is guaranteed a spot in the finals so far.
The Men's Team Event will pit Green Machine vs. 4 Rotten Eggs for a fourth place match and the winner will face off with Shepard's Team. 1 Good Player, captained by Bob Romano awaits the conclusion of the B-side.
Get to the Mega Center early, as it is sure to be a packed house for the exciting finish to the weeklong events.
File photo courtesy of Diana Hoppe - Pool Pics by Hoppe