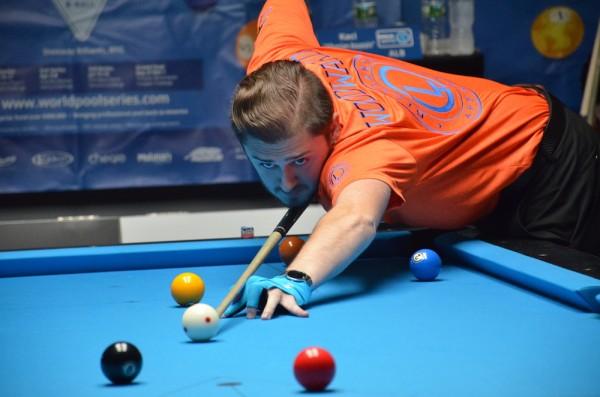 Skyler Woodward - File photo courtesy of Karl Kantrowitz
Skyler Woodward
came back from a 6-4 deficit to steal the hot seat by a score of 7-6 of the 10-Ball Division at the 2017 US Bar Table Championships from Mosconi Cup teammate
Shane Van Boening
Monday evening.
The 24th US Bar Table Championships kicked off Sunday at the Westgate Las Vegas Resort & Casino. The 10-Ball Division wraps up today, as the 9-Ball Division begins. The 9-Ball Division concludes Thursday and the 8-Ball is scheduled for Thursday through Saturday, Dec. 16.
Van Boening also had a solid day, beating: Donald Weathersby II, 7-2; Robert Doral, 7-2;
Amar Kang
, 7-6;
Jesse Engel
, 7-3; and
Mitch Ellerman
, 7-2; before losing the hot seat to Woodward.
At 1 p.m., Van Boening will face Calabrese, an Australian with a snooker background who has only been playing American-style pool for about a year.
Calabrese posted wins over:
Shane Longest
, forfeit;
Gary Lutman
, 7-6; Donny Branson, 7-4; and
Jason Klatt
, 7-5; before Woodward sent him to the loser's side of the bracket, 5-7. Then Calabrese tossed
Shaun Wilkie
(7-5) and Klatt (7-3) out of the tournament, to secure himself a spot in the semi-finals.
The women's 10-Ball Division concluded on Monday, a day earlier than normal. First place went to
Heather Cortez
, $800; second,
Rae Evans
, $400; third,
Trinh Lu
, $250.
Live streaming of the US Bar Table Championships continues today at 1 p.m. with Van Boening vs. Calabrese in the semifinals of the 10-Ball Division. The winner of that match will play Woodward at 2:30 p.m. in the finals. If the true double-elimination finals goes to a second match, that will be streamed at 4 p.m.
Selected matches from the 9-Ball Division will be streamed at approximately 5:30 p.m., 7 p.m. and 8:30 p.m. PST. To access live streaming, visit www.playcsipool.com/watch-live.html.
For more information, contact
Mary Coffman
, CSI Marketing Manager, at 702-719-7665 or by email at mary@playcsipool.com.