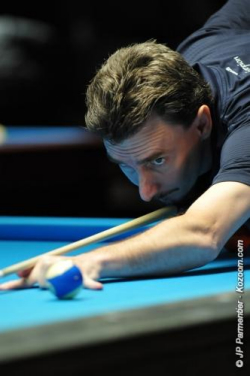 Johnny Archer
Normally the round of 64 is when the cream begins to rise to the top. But there are so many excellent players in Doha this week that some of that cream is being pushed aside and left on the floor. It is a case of immovable objects meeting irresistible forces. Something has to give.
As an example you certainly expect
Efren Reyes
to be around for the next round. And you expect the same of
Johnny Archer
. But those two met on the baize today and one of them had to be eliminated. That would be Reyes. Archer won their battle 11-10 and Reyes is left to seek a chessboard or a nice meal to console himself.
Perhaps the greatest surprise of the day is that the two players considered by most pundits to be the best in the world,
Ralf Souquet
and
Mika Immonen
, both got handed their walking papers today. Souquet fought the good fight but still succumbed 11-9 to Vinancio Tanio.
Lee Chenman
, however, smothered Immonen 11-3 in a match that must have left the iceman in shock and awe.
Dennis Orcullo, who just won the World Pool Masters a few short weeks ago, is licking the wounds that
Bruno Muratore
inflicted with an 11-7 victory that leaves Muratore now to face Johnny Archer.
The action today reduced the field from 64 men down to 32. At the end of tomorrow there will only the sweet sixteen. And every one of those men will know that a World Title is within grasp. For some the arm will grow clumsy. For others the spirit will rise within and they will leap to the challenge and fight for the honor. There is a champion among the names left aboard the bracket. Pick your favorite and see if the golden ring lands upon his finger.