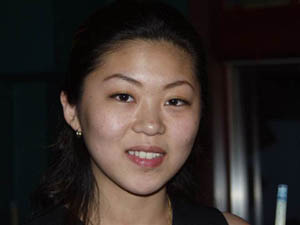 Ga-Young Kim
The Ladies Spirit Tour returned to Wally's Sports & Billiards in Lakeland, FL with a field of 33 players competing for 1st place. The field was a true international mix of players, featuring players from Japan, Korea, Belgium and England joining the regular US crowd.
Even with all of the top notch firepower at the event, it was still tour points leader Tracie Hines who emerged in the hot-seat. Hines trip to the hot-seat included impressive wins over such notables as Wendy Jans and Miyuki Sakai.
On the one-loss side, reigning World Champion Ga-Young Kim was smarting from an early loss to WPBA Touring Professional Sarah Ellerby. Kim was able to vent the frustration from that early loss with wins Jans, Jeannie Seaver and Sakai to earn her way into the finals against Hines.
The first set of the double elimination finals saw Kim pull out a close 7-5 win over Hines, but the second set was much more one-sided as Kim earned a 7-3 victory and first place in the event.
Kim earned $700 in prize money, while Hines pocketed $500 for second. Sakai and Jeannie Seaver filled out the top four spots. Tour regular Jessica Barnes scored a fifth place finish and earned the WPBA Peoria qualifier as the highest finishing player not already invited to the event.
Complete Results:
1st Ga-Young Kim $700
2nd Tracie Hines $500
3rd Miyuki Sakai $400
4th Jeannie Seaver $300
5th/6th Sarah Ellerby, Jessica Barnes $175
7th/8th Dianna Lane, Crystal McCormick $100
9th/12th Ellen Van Buren, Deanna Laney, Bonnie Coats, Wendy Jans $50