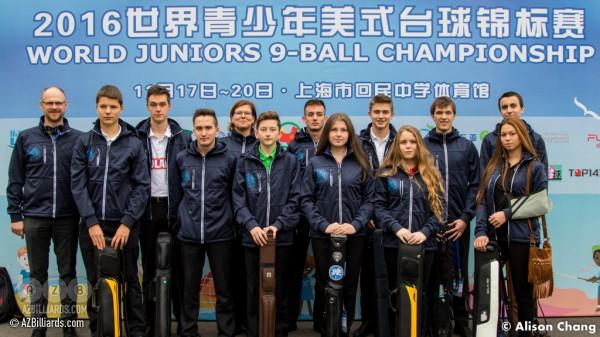 European Junior Team
The WPA World Junior 9-Ball Championships in Shanghai, China, are ready to kick off. Team Europe is in good shape already. After the press conference in Huimin Middle School, an International Fun Cup was played with 5 players per continent. There were 4 different exercises and drills to play and team Europe has taken the first victory there already. A good writing on the wall for the upcoming Championships.
After the Challenge, the draw was done for the event which consists of 32 players in each category (girls, U17 and U19). A total of 24 nations are in the starting gates. The draw resulted in the following first round matches for our European hopes:
11:00
Khodjaeva (BEL) v Jiang (USA)
Zielinski (POL) v Tate (USA)
Koukiadakis (GRE) v Ding (CHN)
Hofmann (GER) v Hashem (CAN)
14:00
Tkach (RUS) v Liu (CHN)
Gorst (RUS) v Wu (TPE)
Pehlivanovic (BIH) v Grove (RSA)
Maciol (POL) v Mi (CHN)
16:00
Fatikhova (RUS) v Ma (CHN)
Zadeikis (LIT) v Zhang (CHN)
Dudanets (RUS) v Wu (CHN)
All times are local times.
Diana Khodjaeva is a bit handicapped since she suffers from an injury she got during the recent Kremlin Cup in Moscow. Hopefully, it will not prevent her from coming up with her peak performance.
The event can be followed at the following links:
http://alison-chang.com/2016/11/12/2016-juniors-9-ball-world-championship-set-kick-off-shanghai/
http://123.103.12.169:8088/flvvideo6/index.html