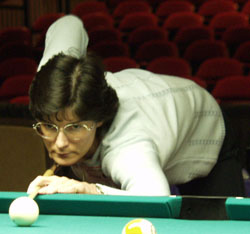 Karen Corr will attempt to defend her title
The Women's Professional Billiard Association (WPBA) rolls into Riverwind Casino in Norman, OK, on October 3 - 7. Last year's champion, world #2 ranked Karen Corr of Ireland, will be on hand to defend her title. Corr also won earlier this year at the BCA EnjoyPool.com 9-Ball Classic in Las Vegas. All of the world's top players are scheduled to compete, including world #1, Allison Fisher, who captured her first victory of the year in the Cuetec Cues U.S. Open in August. Also competing in Norman will be England's Kelly Fisher, Kim Shaw and Sarah Ellerby, Korean Ga-Young Kim, Austrian Gerda Hofstatter, Sweden's Ewa Laurance and Helena Thornfeldt, and Americans Monica Webb, Vivian Villarreal, Jeanette Lee, Tiffany Nelson, and Jennifer Barretta.
Last year's tournament was held in East Peoria, IL. This event marks the first time the WPBA has held a tournament in Oklahoma. "The WPBA and all our players are very excited about the upcoming Midwest Classic at Riverwind Casino in Norman," says Peg Ledman, WPBA Tour coordinator. "Given the early interest from fans and media, we here at WPBA believe this will be a hugely successful tournament and look forward to making Oklahoma a regular stop on our ESPN Tour."
Total purse for the event is $100,000. Tickets are on sale at the Showplace box office, (405) 322-6464 and range from $10 to $40 per session. The Midwest Classic kicks off with a media night / Charity Pro/Am to benefit the Susan B. Komen Breast Cancer Foundation, on Wed. Oct. 3 at 7 p.m. Admission to the Pro/Am is a $20 donation. For more information, visit www.wpba.com.