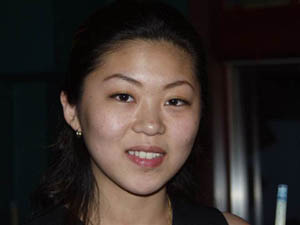 Ga Young Kim
Day two at the WPBA Cuetec Cues Midwest Classic is complete with fourty players already eliminated.
One of the first players to be relegated to the stands was #8 ranked Julie Kelly who started with a 9-6 loss to Ga Young Kim on Thursday and then lost to Ramona Biddle 9-8 on Friday. Kelly trailed in this match 8-4, but clawed back to tie the match at 8-8 before losing the case game to Biddle.
Ga Young Kim is one of the big stories so far in this event, where she remains undefeated. After the victory over Kelly on Thursday, Kim went on to score a 9-2 win over Jane Fujinaga, followed up by a 9-1 thrashing of Jennifer Chen. Kim will face #1 ranked Allison Fisher on Saturday.
Another story on the winners side is Regional Tour Champion Ikumi Ushiroda, who has posted wins Gerda Hofstatter and Laura Smith so far. Ushiroda will face #3 ranked Helena Thornfeldt next.
Complete brackets for this event are online at the WPBA website at www.wpba.com
Photo courtesy of Diana Hoppe - Pool Pics by Hoppe