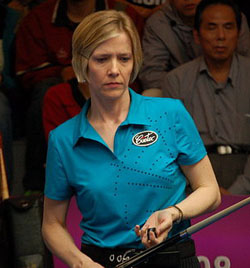 Allison Fisher
The top players of the Women's Professional Billiard Association are coming to the Viejas Casino in Alpine, California. This event will mark the 13th time that Viejas has hosted a WPBA Classic Tour stop. The 64 player field will be made up of the Top 45 Exempt Professional players, with the remaining spots going to qualifiers and invitees.

The event kicks off on Wednesday, April 1st with a Charity Pro-Am event. For $50, fans can come in and play the Pro's to raise money for The Alpine Women's Club. Everyone is welcome to watch the Pro-Am event free of charge. Contact Sandra Barrett-Pfitzenreuter at sandra@viejasproduction.com for more information.

The preliminary rounds of tournament play begin Thursday at 10am and run through Saturday night, when the field will be narrowed down to four players for the taping of the two semi-finals and final match on Sunday. For ticket information, go to www.viejas.com.

Allison Fisher, last year's Champion, will look to this event to kick off the new season with another win here. "I really love playing at the Viejas Casino in San Diego as it is one of my favorite WPBA tour stops. I couldn't wish for a better place to start the year off. I am looking forward to returning and trying to defend my title."

The WPBA's points system ensures excitement since all players are starting at zero and could earn a potential 5000 points for 1st Place, winning the first event is important to gain momentum for the top spot at year's end.

Southern California player and WPBA Board Member Melissa Herndon, ranked #16 in the world at the end of '08, enjoys the "home field advantage" of playing at the Viejas Casino. "As a player, I love going to the Viejas event each year. The staff at Viejas are pro's in every aspect and the facility is gorgeous. And of course, being a So Cal resident, the crowd is always behind me. All of it combined makes this my personal favorite event of the year!"

In addition to signed photos and tour posters available from our merchandise booth, there will be Cuetec Cues for raffle throughout the tournament. On behalf of the WPBA Organization, Staff, Players and our Sponsors, we look forward to seeing our fans at the San Diego Classic. We owe many thanks to our friends at the Viejas Casino for their continued support of the Women's Professional Billiard Association.