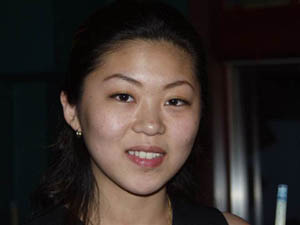 Ga Young Kim
Saturday play is complete at the 2003 Brunswick Billiards US Open and Sunday's TV Rounds are set.
The quarter-final match will see Vivian Villarreal take on Jeanette Lee. Villarreal lost to Loree Jon Jones on the winners side and then proceeded to win five straight matches including a 9-6 win over Jones to wrap up Saturday. Jeanette Lee lost to Laura Smith on the winners side but then won seven straight on the B-side including a 9-6 win over Monica Webb.
The winner of that match will take on Korean sensation Ga-Young Kim in the semi-finals. Kim has been tearing up the regional tour circuit earning qualifiers for WPBA events and will be making her ESPN debut. Kim remained undefeated until her final match on Saturday where she won on the wrong side of a hill-hill match with #2 ranked Karen Corr. Kim held a 5-2 lead in that match, but scratched on two consecutive breaks to allow Corr back into the match.
The winner of the semi-finals will face Corr in the finals. A win by Corr in the finals would allow her to close the gap between her and #1 ranked Allison Fisher on the WPBA points list. The difference is currently 185 points, but a Corr win would shave 75 points off of that lead.
Complete brackets for the event are posted on the WPBA website.