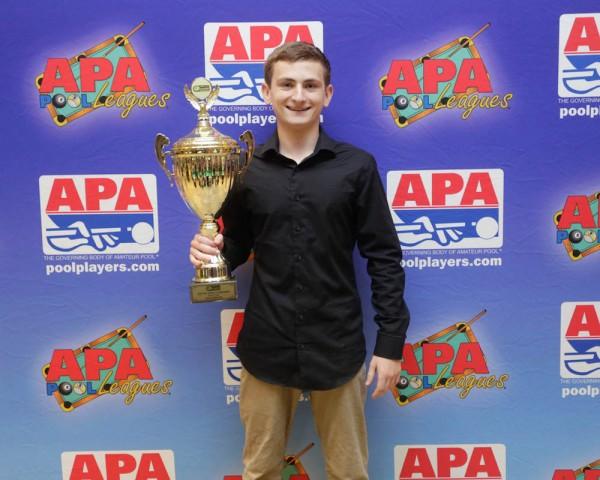 Beck Matthews
More Than 500 Kids Compete in St. Louis
A record number of aspiring young APA members from across North America made their way to St. Louis, Mo., in late-June for the APA Junior Championships.
After four-days of having fun, making new friends from across the country and playing their hearts out on the pool table, four new champions were crowned in each tier of the Junior Championships.
In the finals of the Green Tier (skill levels 1-2), Giovanni Gambone of Gloucester City, N.J., defeated Robert Randall of Red Bud, Ill. Evan Sneed of Eligin, Okla. and Rayshard Buwalda of Des Moines, Iowa, tied for 3rd Place in the Green Tier which featured the largest number of competitors in this year's event with 225 participants.
In the Red Tier (skill level 3), Zachary Hemendinger of Esperance, N.Y., defeated Ava Lucas of Syracuse, N.Y. The Red Tier featured 140 players. Blaine Gilmore of Walker, La., and Philip Albert of Barrie, Ontario tied for 3rd Place in the Red Tier.
In the finals of the White Tier (skill levels 4-5), Wyatt Neeley of Dalton, Ga., defeated Jaden Bolyard of Decatur, Ill. Benjamin Gonzales of Normal, Ill., and Jaden Oglesby of Harrisburg, Ill., tied for 3rd Place in the White Tier which had 101 participants.
In the Black Tier (skill levels 6-9), Beck Matthews of Louisville, Ky., defeated
Kodi Allen
of Tampa, Fla. The Black Tier featured 40 players. Tying for 3rd Place in the Black Tier were Alice Adams of Eau Claire, Wisc., and Travis Criblez of Mantua, Ohio.
This year's APA Junior Championships was held June 27-June 30 at the Renaissance St. Louis Airport Hotel. The four-day event also included recognition for Outstanding Academic Achievements and a special exhibition and autograph signing by "The Black Widow"
Jeanette Lee
.
Nationwide Insurance was the Presenting Sponsor of this year's APA Junior Championships.
The APA, based in Lake Saint Louis, Mo., sanctions the world's largest amateur pool league, known as the APA Pool League throughout the United States, and as the Canadian Pool League in Canada. Nearly 250,000 members compete in weekly 8-Ball and 9‑Ball League play. The APA is generally recognized as the Governing Body of Amateur Pool, having established the official rules, championships, formats and handicap systems for the sport of amateur billiards.
The APA produces four major tournaments each year—the APA World Pool Championships, the APA Poolplayer Championships, the APA Junior Championships and the U.S. Amateur Championship—that, together, pay out nearly $2 Million in cash and prizes annually!
The APA and its championships are sponsored by Aramith, Action Cues, PoolDawg and Valley-Dynamo.