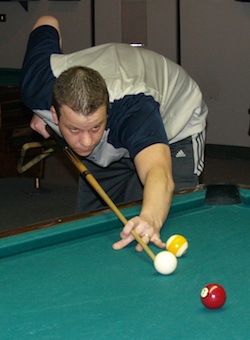 Steve Kurtz
At this year's Super Billiards Expo we are proud to announce the introduction of a new event. The Diamond Billiard Product / Bob Jewett 14.1 Challenge. The idea was originally thought of by long time 14.1 player and fan Steve Kurtz while trying to infuse new life back into the game. His tenacity for the game is unmatched and those of us involved are proud to be working with him to make this event a huge success in its inaugural year.
At this point our thanks and praise goes out to all of our incredible sponsors, without them we would not be able to make this event happen. Bob Jewett was the first to step up with a massive thousand dollar donation, followed quickly by Diamond Billiard Products with a donation of two nine foot tables for use including all accessories (racks, balls, bridges, ball cleaners). Pete Tonkin has donated a beautiful creation valued at $1500.00 which will be raffled off to help bolster the prize money for the players involved.
Allen Hopkins
is graciously donating a booth to the three that we had already paid for giving us a large space for the challenge to take part in. Milliken Cloth in association with Sterling Fury also donated $500.00 as well. Another thank you goes out to
Kevin Vidal
for providing massive logistical help as well as a sponsor banner, and top finisher trophies.
In addition to these generous sponsors a massive debt of gratitude goes out to the members of the AZ Billiards Forums. Their generosity and support knew no bounds as donations from all over the country poured in. Their ideas, their donations, and their support have been invaluable and it is for them as well as the rest of this community that we are running this event.
Thanks to the AZ Billiards Forums we have been able to keep close contact with all parties involved and it has proven to be a massive marketing tool for us as well as the widest wealth of knowledge and resources on the internet. It truly is a haven for all cue sports.
The event will run all four days of the expo. For a twenty five dollar entry fee a player will get 5 attempts at the table with ball in hand and a break shot. Those runs will be added up to form a total. The eight players at the end of play on Saturday will be invited to play in our eight man single elimination tournament. Opening rounds will be races to 100 points while the finals will be a race to 150 points.
We encourage everyone to play in this event as we will have many raffle prizes and other great things going on throughout the four days. Again to Steve Kurtz and this incredible idea we cannot thank you enough for breathing even more new life into a game that while seemed to be fading is making a massive recovery. Events like these and many more are what are needed for a true resurgence of this discipline of champions.