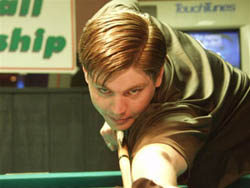 Mike Davis
The 2005 Joss Tour Season Finale is now underway the The Turning Stone Casino in Verona, NY. The $15,000 added event has a full field of 128 players competing for the $10,000 first prize.
The marquee matchups start in the first round with such notables pairings as Mike Davis vs Earl Strickland and Santos Sambajon vs Tom D'Alfonso.
Kim Davenport is making his return to major tournament play in this event, and he faces Bob Cunningham in the first round.
Spectator admission into the event is FREE for the entire event and Mike Massey will be doing trick shot shows on Sat 8/20 and Sun 8/21 at 8pm each night.
Brackets are online and we will have a photo gallery from Diana Hoppe online this evening.