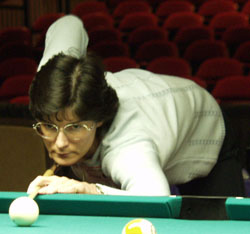 Karen Corr
For those of you in or around the Drexel Hill, Pennsylvania, area you are certainly missing out this weekend if you are not at Drexeline Billiards. Owner Bob Maidhof has welcomed the J. Pechauer Custom Cues Northeast Women's 9-Ball Tour to his establishment this Saturday and Sunday to battle it out for a WPBA qualifier spot for the 2009 U.S. Open.

As anticipated, the tour drew a competitive field of thirty-five players. Included in the field, Karen Corr, Julie Kelly, Morgan Steinman, Pam Cimarelli, Ming Ng, Briana Miller, Tina Meraglio, Megan Minerich, My-Hahn Lac, not to mention many new faces and plenty of players that have come out of "retirement" to compete.

The brackets for the event will be updated periodically throughout the weekend to keep those of you at home informed. But, if you are close, stop in and watch some of the best ladies in the region tough it out for the coveted qualifier win.

For more information on the tour, visit the newly launched website at www.JPNewt.com; or contact President/Tour Director Linda Haywood-Shea at (443) 852-0020, email linda.shea@jpnewt.com

Additional information about Drexeline Billiards can be found at www.drexelinebilliards.com or by calling directly at (610) 259-9144.

Many thanks to Bob Maidhof and staff for being such gracious hosts and for continuing to support the sport of pool! Drexeline Billiards hosts many events throughout the year – not only can Bob shoot a mean stick, but he is a fabulous asset to the game.