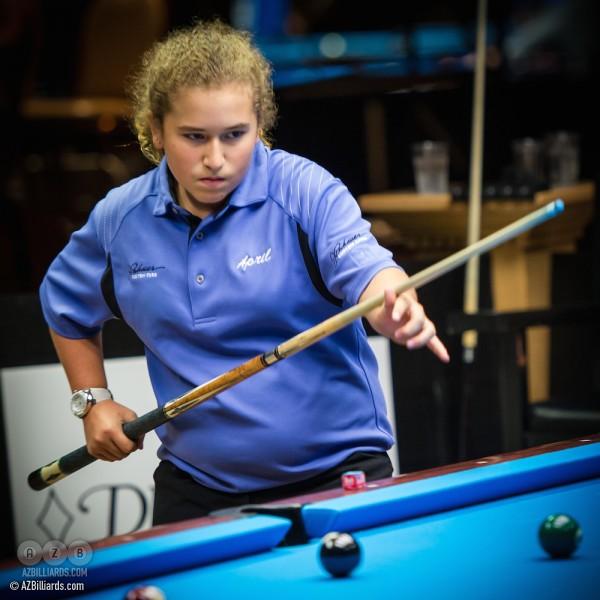 April Larson
The 26th Annual Junior National 9-Ball Championships presented by the Billiard Education Foundation (BEF) are currently underway at the Kentucky International Convention Center in conjunction with the Billiard Congress of America annual Summit.
79 participants from 21 states have arrived to vie for their chance at the coveted title of BEF Junior National Champion, and for an opportunity to represent our nation at the upcoming WPA World Junior 9-Ball Championships in Shanghai.
Players compete in four age divisions: 18 & Under Boys, 18 & Under Girls, 14 & Under Boys, and 14 & Under Girls. The annual Junior Artistic Pool Championships continues for its 21st year. Also, 25 billiard student-athletes with GPAs of 3.5 or higher will also be recognized at the event's banquet as this year's BEF Academic All-Americans.
Among the competitors are returning champions 14-year-old
April Larson
of Bloomington, Minnesota (2-time defending 14 & Under Girls division champion) and 16-year-old
Zachary Hampton
from Rocky Mount, Virginia. Hampton was the 14 & Under Boys champion in 2012 and last year claimed the 18 & Under Boys division at age 15.
The BEF also recognizes its premier sponsors for this event. Venue Sponsor: Billiard Congress of America, Equipment Sponsors: Diamond Billiard Products, Simonis Cloth, Aramith Balls, and this year's Academic Scholarship Sponsor: Predator/Poison Cues. Without their generous support, this year's championships would not be possible.