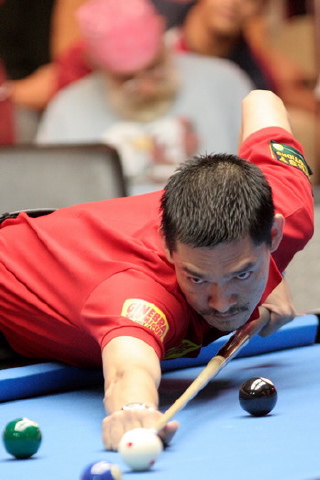 Ronnie Alcano
Former double world champion Ronnie Alcano hopes to finally pocket his first title this year as he competes in the First Senate President Manny Villar Cup Cebu Leg, which fires off on Friday at the Trade Hall of SM City in Cebu .

"It's been quite long that I haven't won a championship, and it's already middle of the year, so I will do my best to finally nail one," said Alcano, who is one of the seeded players in what would be the biggest pool tournament in the South presented by Villards: Tulong sa Pagsulong ng Philippine Sports in partnership with the Billiards Managers and Players Association of the Philippines (BMPAP).

One of the only four players to hold both the world 8-ball and 9-ball tiaras, Alcano has not won a title since ruling the World 8-Ball Championship in March 2007. He twice fell a win short of another crown, first in the All-Japan Open in March, where he lost in the finals to compatriot and fellow Bugsy boy Dennis Orcollo, and second in the World 8-Ball tilt, where he bowed to German Ralf Souquet in the titular match.

" Cebu is a good place for me and I've already won a tournament there in 2005. I just hope that I would also get lucky in return there," added the 35-year-old Calamba City native and stalwart of the star-studded Bugsy Promotions of businessman Perry Mariano.

But it would take more than luck to win the Villar Cup as practically all of the country's world-class cue artists plus a horde of up and coming stars are vying in the event coorganized by Sunstar Superbalita, supported by Bugsy Promotions, Puyat Sports and Negros Billiards Stable, and sponsored by Camella Communities.

Besides Alcano, the other players competing for the prestigious cup and the P400,000 top purse that goes with it are fellow former world titlists Efren "Bata" Reyes and Alex Pagulayan, current world no.1 Dennis Orcollo, former world's top-ranked player Francisco "Django" Bustamante, 2007 World Pool runner-up Roberto Gomez, reigning national champion Lee Van Corteza, former Asian Games gold medalist Gandy Valle, and Villar Cup opening leg winner Warren Kiamco.

Also seeded to the 64-man main draw are Ramil Gallego, Joven Bustamante, Rodolfo Luat, Carlo Biado, Jharome Pena, Ricky Zerna, Jundel Mason, Elmer Haya and Benson Palce, along with former national juniors champion Mark Mendoza and long-time national team mainstay Benjie Guevarra, who replaced Rubilen Amit and Mary Basas. Amit and Basas are in teaching engagement in Indonesia .

Also making it to the tournament proper are rising stars Russian Petiza, Rene Mar David, Johann Chua and Manolo Tanasas, who booked a slot through a special qualifying tournament for the Billiards Idol Season 1 topnotchers.

Jomar de Ocampo and Aram Serquiano made it as Nothern Luzon representatives, while Ronnie Aying and Danny Otacan were selected to represent Mindanao, Godofredo Ducanes, Allan Villa, Romar Villones and Steve Villamil for Western Visayas, and William Millares for Central Luzon.

The field will also have two European invitees in Christian Johannessen and Roy Steffessen.

The rest of the slots will be filled through qualifying tournaments on Wednesday and Thursday also in SM City Cebu.