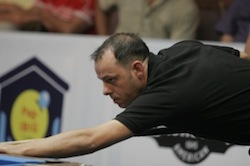 Darren Appleton
Friday play at the Andy Mercer Memorial started off with 64 players and fortunately going into Saturday no one had been eliminated yet.

Several players from around the world showed up for this 3 day event and with 1st place receiving over 12,000 why wouldn't they? Every year the Rum Runner in Las Vegas Hosts this 3 day bar table 9 ball tournament, they limit entries to 64. The Rum Runner guarantees $6000 for first place and the additional winnings vary from year to year.

Several players from the west coast showed up including last years winner Brian Parks, as well as Bernardo Chavez, Billy Palmer, George Michaels, Al Lawrence, Walter and Tim Glass and Tres Kane. Also showing up for this tourney was Chad Vilmont, Darren Appleton, and Shane Van Boening. This tournament was definitely not short on talent.

Shane, Darren and Chad all breezed through their first 2 matches but there are still 2 whole days of play left and anything can happen in 9 ball and on a bar table.