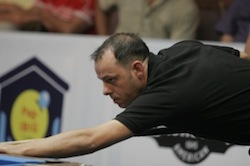 Darren Appleton
With the Qatar International 9-Ball Open down to just four players, one thing is guaranteed. Darren Appleton will be the #1 player no matter how he finishes in the event.

Appleton's guaranteed 3rd place finish, combined with Souquet's 17th place finish will be enough for Appleton to overtake Souquet in the world rankings compiled by the World Pool Association.

While Appleton certainly owes a lot of that #1 position to his win last year at the World 10-Ball Championship, he has been far from a "one hit wonder". Appleton's finish at the Qatar Open will be his third finish higher than Souquet in the six ranking events and will better his 9th place finish in Qatar last year.

Already having a great year, Appleton had a 7th place finish at the Philippine Open and a 17th place finish at the recently completed China Open. Add in his dominating performance at the US Bar Table Championship and his win at the World Pool Masters this year and you have to consider Appleton as a front runner for player of the year honors this year.