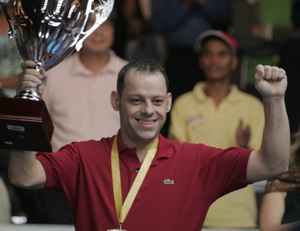 Darren Appleton
Darren Appleton of Great Britain beat former two-time world champion (WPA 9-ball and WPA 8-ball) Chia-Ching Wu of Chinese-Taipei, 13-11, in convincing fashion to win the inaugural WPA World Ten Ball Championship at the Philippine International Convention Center in Pasay City.
Appleton led the match most of the way, surprising many as Wu was a big favorite in this $400,000 total pot prize event.
Appleton raced to a 3-0 lead and stretched it to 6-1 and 10-5. Appleton pocketed the $100,000 top purse, while Wu earned $40,000.
By winning the World Ten Ball event, Appleton continues the domination by the European contingent. Compatriot Daryl Peach of Great Britain won the 2007 WPA World 9-Ball Championship, Ralf Souquet of Germany ruled the 2008 WPA World 8-Ball while Niels Feijen of the Netherlands took the WPA World Straight Pool 14.1 Championship.