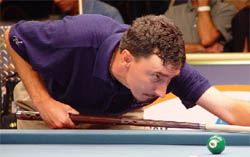 Johnny Archer
Johnny Archer has defeated Jose Parica to win the Predator Atlanta Open and score his second UPA Tour victory in as many weeks.
After a first round bye, Archer dropped his next match 11-10 to IBC star Go Takami. Archer trailed in that match 10-7 but came back to tie it at 10-10. A tough miss on a 7-9 combo by Archer opened the door for Takami and he ran out the next three balls to win that match.
Archer was not to be denied though. He came back with 2 wins on Friday in front of his home crowd and family. He then scored 4 wins on Saturday and 4 wins on Sunday to earn the tournament win.
Archer commented after the match; "I think I am on a good roll right now. I am feeling good at the table, and more importantly I am playing smart". When asked about his possible 'Player of the Year' credentials, Johnny responded that he had 4-5 big wins this year and a few other high finishes. "I am just going to play my game and if I win it, that would be great. I would definitely trade any player of the year award for a U.S. win at the Mosconi Cup in December though."
Archer collected $8000 for the win, while Parica settled for $4000. Ronnie Wiseman and Max Eberle filled out the top four positions.
Review all the match results with our online brackets.
Complete Payouts:
1st Johnny Archer $8000
2nd Jose Parica $4000
3rd Ronnie Wiseman $3000
4th Max Eberle $2500
5th/6th Go Takami, Nick Varner $2000
7th/8th Danny Hewitt, Gabe Owen $1600
9th/12th Rodney Morris, Tony Crosby, Jimmy Wetch, Young-Hwa Jeong $1000
13th/16th Danny Harriman, John Schmidt, Jeremy Jones, Mike Davis $400