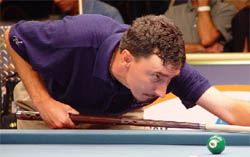 Johnny Archer
Johnny Archer has defeated Charlie 'Hillbilly' Bryant 9-4 to take the hot-seat at the 4th Annual Predator Central Florida Pro Open.
Archer started the day with a 9-6 win over Buddy Hall and then cruised over Bryant who had sent Danny Harriman packing to the left side with a 9-7 win.
Harriman bounced back from the loss to Bryant and defeated Charlie Williams 9-5 and has earned a rematch with Bryant on the one-loss side.