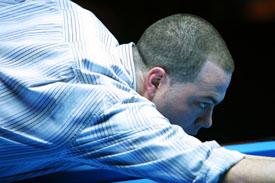 Scott Frost
Johnny Archer will take on reigning Olhausen Billiards Desert All Around Champion Scott Frost as part of this exhibition scheduled for Wednesday, January 30th at 7:00 pm.

The challenge match will take place at the end Archer's scheduled exhibition at Kolby's Corner Pocket in Tempe, Az.

The challenge will be a 9-ball race to 9 with alternating breaks.

Fans are urged to arrive early to guarantee a seat.