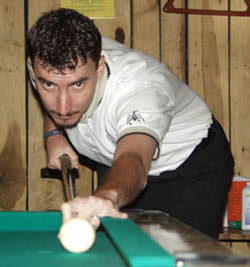 Johnny Archer
Johnny Archer continued his great play this year and went undefeated to win the 3rd Annual Predator Central Florida Open at Pro Billiards in Orlando, FL.
Archer, who has already scored tournament wins at the Brunswick Pro Players Championship in March and the IBC Western Canadian Open in April, looked like he might be upset by Josh Degler in their third round match. Degler led in that match 7 to 3, but Archer came back to win the next six games to win the match 9-7. From there, Archer scored wins over Max Eberle, Rodney Morris and Buddy Hall by a combined scored of 27-5.
Archer's opponent in the finals, Charlie Williams, lost 9-4 to Buddy Hall on Sunday. Williams bounced back from that loss to defeat Max Eberle and Rodney Morris. Williams then got his revenge over Hall, with a 9-5 victory.
Williams jumped out to an early 5-2 lead in the finals, but Archer won the next 11 games for the 13-5 victory. Archer commented after the tournament, "I played pretty solid. I've been working hard and I just feel more comfortable this year." When asked about his successful play this year, Archer remarked that "It just seems easier this year. My wife is with me most of the time and I have just felt more relaxed all year long."
Archer collected $3000 for the win, with Williams taking home $1700 for second. Buddy Hall and Rodney Morris filled out the top four spots.
Complete brackets are online.
Photo courtesy of Diana Hoppe - Pool Pics by Hoppe