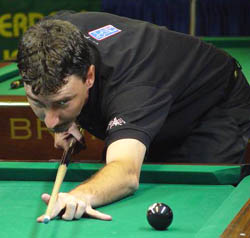 Johnny Archer
Johnny Archer has won the Fury World Summit of Pool at Amsterdam Billiards in New York, NY.
Archer played Santos Sambajon in the finals. Sambajon had dominated Jose Parica in the match for the hot-seat, making balls on every break. This time, Sambajon's break failed him and it was Archer that dominated with balls on the break.
Sambajon won the first rack, but came up empty on the break in the second rack allowing Archer to knot the match at 1-1. A break & run in the third rack put Archer up 2-1 and he won the next rack for the 3-1 lead. Sambajon then won the next two games to tie the match at 3-3, but he came up empty again on the break in rack seven. Archer won that rack for a 4-3 lead.
A break & run in the next match gave Archer a 5-3 lead and by this time he was playing much faster and full of confidence. Archer went on to break & run the next two racks for the 7-3 lead. Sambajon did get to the table in rack eleven, but he was facing a safety and was unable to hit the ball. This led to an 8-3 lead by Archer. Another break & run by Archer and he had a 9-3 lead.
Sambajon would win the next two racks but Archer took rack sixteen for an 11-5 lead and then broke & ran the next two racks for the tournament win.
Archer won $12,000 for first while Sambajon pocketed $6,500 for second. Parica and Max Eberle filled out the top four spots.
Follow all the match results with our online brackets.
Photo courtesy of Mark Whiteside