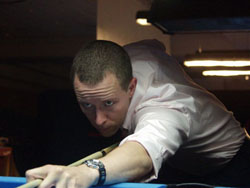 Defending champion Mika Immonen
The 4th Annual UPA Atlanta Open got underway on Thursday with a field of 43 players at Murphys Brass Rail in Athens, Ga.
The first day of play held very few surprises as far as match results with the usual suspects moving ahead into the third round of play. The biggest upset on day one was Larry Nevel's 10-7 win over Charlie Williams.
Day two will have some intriguing matches on the winners side with Johnny Archer facing Earl Strickland, Charlie Bryant taking on Tony Robles and Mika Immonen vs Robb Saez.
Complete brackets are online and will be updated until a winner is crowned on Sunday.
File photo courtesy of Diana Hoppe - Pool Pics by Hoppe