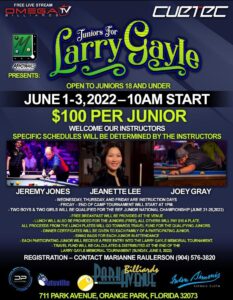 Marianne Raulerson has brought together a great opportunity for junior competitors to earn their spot in the upcoming BEF Junior National Championship and learn from some of the best players in the game today. 
The 7th Annual Larry Gayle Memorial Tournament will kick off on Friday, June 3rd at Park Avenue Billiards in Orange Park Florida, but Raulerson has combined this year's event with an 18 & Under Junior Instructional Program that will include The Black Widow Jeanette Lee, Team USA Captain Jeremy Jones and Former Team USA Vice Captain Joey Gray. All three top professionals will be instructing players for three days on June 1st – 3rd.
Participation in this event is $100 per junior player and includes breakfast, lunch and dinner for each junior, as well as a "swag bag" of various items from event sponsors and supporters. The $100 entry also covers the junior player's entry into the Larry Gayle Memorial, a $7500 added event.
Two boys and two girls will also qualify for the BEF Junior National Championship from this event. For more information, reach out to Marianne Raulerson at 904-576-3820, but hurry as spots are filling fast.
There is a long list of sponsors who are helping make this event possible, that includes Cuetec Cues, Simonis Cloth, Outsville, Digital Pool, One Stop Auto, Jamison Daniels, Sonny's BBQ, Omega Billiards TV, Rack & Grill Pool Room, US 1 Billiards and Bar, Zingale's Billiards, OSteen Volvo, Triple G Fencing, OB Cues, Off the Rail Apparel, Derek Folds with FWM Law Firm, Dunnski Dungeon, Cracker Barrel, La Nopalera Mexican Restaurant, Krispy Kreme and Panera Bread.
Special thanks go to Jeanette Lee, Jeremy Jones, and Joey Gray.