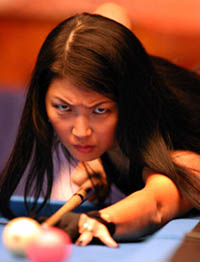 Jeanette Lee won 9 matches in a row
Jeanette Lee came back from an early loss on Saturday and won the Atlanta Women's Open at Mr Cues II in Atlanta, Ga.
Lee dropped a match to Julie Kelly early Saturday, but won three straight matches on Saturday and then five more matches on Sunday to get to the finals.
Playing Jeanette in the finals, was Karen Corr who came back from a 7-2 deficit against Allison Fisher to win the match 9-7. The nightmare tournament for Fisher was not over yet though. She led the next match against Lee 4-0 and 7-4 before losing five straight games and the match 9-7.
While some might expect the five straight matches on Sunday to exhaust Lee, it just kept her in stroke and she rolled over Corr in the finals. She led 7-1 and 8-3 before running away with the match 11-3.
The win earned Lee $7000 in prize money, while Corr settled for $5000. Fisher and Helena Thornfeldt filled out the top four spots.
Payouts:
1st Jeanette Lee $7000
2nd Karen Corr $5000
3rd Allison Fisher $3300
4th Helena Thornfeldt $2300
5th/6th Vivian Villarreal, Kim Shaw $1800
7th/8th Nikki Hollingsworth, Michelle Rakin $1300
9th/12th Monica Webb, Kelly Fisher, Gerda Hofstatter, Julie Kelly $700
13th/16th Lisa Marr, Tracie Hines, Ga-Young Kim, Sarah Ellerby $350

Photo courtesy of Bill Powers