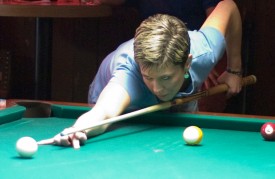 Lisa Brannen
The largest, longest-running regional women's tour in the United States, the Hunter Classics Amateur Women's Tour, held their 4th tournament of 2006 in Lake Jackson, Texas at Shooters II April 8-9. Forty three women came to compete in the $2,000 added tournament over the the weekend at Shooters II and several states were represented besides Texas - including Oklahoma by Michelle McDermott, Florida by Emily Wilmoth, Arkansas by Lisa Brannen, California by Tina Pawloski and New Mexico by Anna Kostanian. On Sunday the regulars were in full force, but there were a few surprises.
Anna Kostanian, the 18-year-old from Albuquerque, New Mexico, continued her regular routine of running over her opponents as she made her way to the hot seat undefeated. On the one-loss side, 7th and 8th place matches were being played out and Heather Lloyd won over Tara McCracken 7-5 and Brandi Booth won over Kyu Yi 7-4. Heather continued winning and defeated Courtney Peters 7-1. Lisa Brannen was sent to the one-loss side by Anna Kostanian on Sunday morning and Lisa started her run of wins by defeating local Lake Jackson player Brandi Booth 7-3, then stopped Heather Lloyd 7-5 and Belinda Lee 7-3 to set up a rematch with Anna in the finals. Brandi filled out the other 5/6th place and Heather placed 4th. Belinda Lee is having a great year and earned her high finish of 3rd place!
Anna Kostanian and Lisa Brannen matched up in the finals and the first match was over quickly as Lisa played strong and won 7-2 to force a second set in the double elimination tournament. The second set looked like a reverse of the first, as Anna led the match at 4-1. However, Lisa fought back hard and turned things around and led at 6-5. At 6-5, Anna nailed a tricky 5-ball/9-ball combo to tie the match at 6-6. It was down to one game for the tournament and the first place prize of $750. Anna broke and was running out when the 4-ball found its way in front of the 9-ball for another possible combo. After a tough miss, Lisa played a safety and although Anna got back to the table later, a heart-breaking scratch on the 8-ball left Lisa two balls for the win. Lisa earned $750 for her first place finish and her first win of the year. Anna placed 2nd and earned $550 and she also won the WPBA Qualifier for the Cuetec Cues Florida Classic event in June!
View the updated Point Standing at: http://www.hunterclassics.com/pointstandings.html and the photos from the event at: http://www.hunterclassics.com/LakeJackson2006/index.html
A BIG thank you to Wes Hunter (http://www.hunterclassics.com/cues/hunterclassics.html ) who donates a Hunter Classics Custom Cue to every stop. Thank you also to Deby at Shooters II who always treats the ladies with respect and sets up a professional and comfortable event for the ladies. Visit the Hunter Classics Tour at Pugsley's Library in Dallas, Texas on June 10-11 for the next stop. Find more information on the Hunter Classics website at www.hunterclassics.com.
Complete Payouts
Main Event:
1st Lisa Brannen $750
2nd Anna Kostanian $550 + WPBA Qualifier
3rd Belinda Lee $380
4th Heather Lloyd $225
5th/6th Brandi Booth and Courtney Peters $145
7th/8th Kyu Yi and Tara McCracken$100
9th-12th Cristina Dela Garza, Snowy Belt, Emily Wilmoth and Julie Stephenson $70
13-16th Leslie Anne Rogers, Shayla Neris, Rebecca Goodnight and Tina Pawloski $50
17th-24th Jennifer Kraber, Michelle Ram, Terry Petrosino, Sue Chong, Gail Roles, Kim Mills, Helen Hayes and Tracie Volkering $25
Second Chance Event:
1st Tina Pawloski $100
2nd Jillian Valles $75
3rd Helen Hayes $50
4th Sandra Adams $25