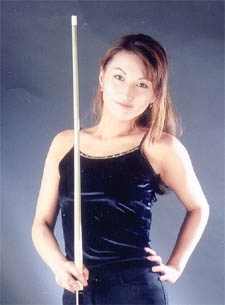 Miyuki Sakai
The Brunswick Korea International Championships started in Incheon , Korea today with Stage 1 qualifying rounds. One womans Stage 1 event was also held and 2 mens stage 1 events. In the end, there were 6 Korean men, 1 Japanese pro, and 1 USA player (Steve Lillis) that qualified. On the womans side Taiwan's #2 ranked woman and Japan's Miyuki Sakai qualified.
Tomorrow Stage 2 begins with the seeded international stars all playing against Korea's top players. Thorsten Hohmann, Mika Immonen, Max Eberle, Kunihiko Takahashi, Hiroshi Takenaka, Chia Ching Wu, and Charlie Williams are scheduled to play. Shin Young Park and Young Hwa Jeong of Korea will also be competing.
On the woman's side, USA's Jennifer Baretta makes her debut international appearance along with Hsin Huang, Saeko Mori, and Sakuko Namiki .
Play continues on Sat and all Sunday matches will be televised nationally on Korea's top sports channel SBS.