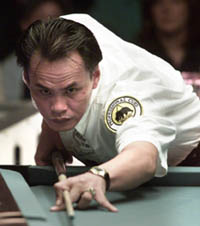 Francisco Bustamante
Francisco Bustamante's woes on the San Miguel Asian 9-Ball Tour continued this weekend as he was eliminated in the first round 9-7 by Tiong-Boon Tan. While this is the first time this season that Bustamante has lost in the first round, he has failed to win more than two matches at every event this season.
Also failing to make it out of the first round was former World 9-Ball Champion Fong-Pang Chao who dropped a 9-8 decision to Vu Trong Khai. Khai will face Young-Hwa Jeong in the second round.
Top seeds who did advance included Efren Reyes and Ching-Shun Yang. Reyes will face countryman Lee Van Corteza in round two, while Yang takes on Ibrahim Bin Amir.
Complete results from round one are available on our online brackets. Look for updates all weekend long.