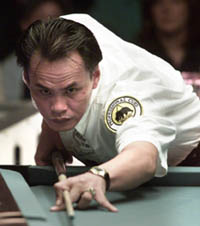 Francisco Bustamante
A nation's collective heart was broken when the last Pinoy standing, Francisco "Django" Bustamante, lost what looked like a won game to 24 year old German ace Thorsten Hohmann 10-11 in a nerve-wracking quarter final match that deprived fans of a much-awaited grudge rematch between Bustamante and defending World Pool Champion Earl Strickland who beat the Filipino pool wizard in an emotional final 17-15 last year.
The anguish if not the anger of Filipinos was further heightened when ESPN Star Sports unceremoniously cut off its coverage the moment the quarter final showdown between Strickland and the young Chinese-Taipei hotshot Ching-shun Yang ended, with Bustamante who was playing Hohmann on the mezzanine floor at that time, leading 8-5.
If there was any consolation to be salvaged it came in the form of Alex "The Lion" Pagulayan, a full-blooded Filipino who represents Canada but has long been embraced as one of our own. Pagulayan entered the finals with another controversy-marred match against Malta's Tony "The Tornado" Drago and was scheduled to battle Hohmann in a race-to-seventeen.
World Pool Championship reported that with Pagulayan on the hill 10-6 referee Nigel Rees called a foul on Drago after he allegedly touched the 8-ball with his hand during his cueing action. TV replays suggested there was no contact but the decision was made and the little Filipino cleared up.
It was the third successive match in which a referee's decision had a vital impact on the final rack of Pagulayan. He was given ball-in-hand when American Rodney Morris took his hand off his cue when measuring the angles and was given the chance to replay a shot against Shin-Young Park after a young spectator moved around the table.
A distraught Bustamante hadn't returned to his room at 4:00 a.m. but Efren Reyes who answered the phone told us that "Django had no luck. He lost by an accident. But Efren gave Hohmann credit, he played some good shots." Reyes lamented the fact that he had to face Bustamante early adding "Django was the only one who could beat me." He said Pagulayan was favored and had "a big chance of winning" the top prize of $65,000.