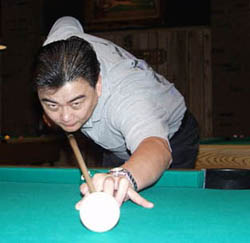 Edwin Montal
The 8-Ball division of the 10th Annual U.S. Bar Table Championship is going strong. What started as 128 players on Saturday morning will be down to 48 players by end of play on Saturday.
The story so far, has been the play of the Canadian players. Josh Smith, Edwin Montal, Jody Thornton, Nick Kruger, Tyler Edey and Stan Tourangeau are among the sixteen players still unbeaten in this event. Joining them on the winners side are such notables as Jesse Bowman, Frankie Hernandez, Tinsley Johnson and Chris MacDonald.
Still playing on the one loss side are 32 players, including Jose Parica who lost to Tourangeau, Sandor Tot who lost to Thornton, Danny Medina and 9-ball division winner Scott Tollefson.
Photo courtesy of Diana Hoppe - Pool Pics by Hoppe