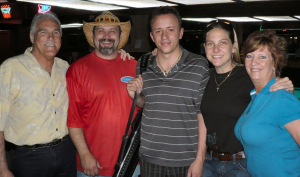 Bogies owner Jerry Williams, Charlie Bryant, Shane Van Boening, Kim White, Georgia Williams
On the weekend of April 25 and 26, Bogies Billiards and Games in north Houston hosted the third stop on the 2009 Lone Star Billiards Tour. This event drew a strong field of 63 players, including touring professionals Shane Van Boening, Shawn Putnam, and Charlie "Hillbilly" Bryant. Notable regional players included Sylver Ochoa, Sparky Ferrell, Doug Young, and James Christopher. Four women competed against the men: Terry Petrosino, Christina De La Garza, Yvette Reyes, and Deanna Henson.

The final four players to emerge were Shane Van Boening and Charlie Bryant on the winners side and Shawn Putnam and James Christopher on the one-loss side. Christopher, although not as well known nowadays as the other three, is a respected veteran player, who'd won a number of tournaments in past decades.

Van Boening won the hot seat match, defeating Bryant, 9 to 5, and Christopher eliminated Putnam from the tournament, 7 to 6. Bryant then earned a rematch against Van Boening, by defeating Christopher, 7 to 5.

In the true double-elimination finals, Bryant waited patiently, as Van Boening broke and ran the first two racks. When Bryant finally got to the table, he quickly tied the set, 2 to 2. They split the next few games, then Bryant pulled away to a 9 to 5 victory, forcing a championship race-to-7 set. In the case set, Bryant maintained his momentum, jumping to a 3 to 0 lead. They traded a few racks, then Bryant again pulled away to win the championship, 7 to 2.

Dating back to 2008, Bryant now has won three consecutive tournaments held at Bogies Billiards and Games, and his combined set score is 24 and 2.

Throughout the tournament, Ray Hansen — owner of "Cue n A Productions" and known as "Big Truck" on the AZBilliards forums — streamed live action to interested viewers via the ustream.tv service.

At the conclusion of the tournament, promoter/director, Kim White, announced that the next stop on the 2009 Lone Star Billiards Tour will be on June 6 and 7, at Casper's Billiards in San Leon, southeast of Houston. This tournament will be played on 9-foot tables. Then on July 18 and 19, the tour will return to Rose Country Club in north Houston and will play on 7-foot bar tables.