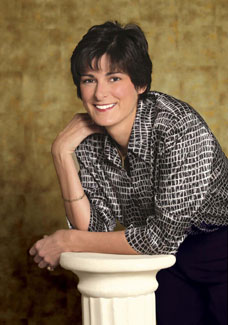 Karen Corr
The J Pechauer Northeast Women's Tour brought the 11th Annual NJ State 9-Ball Championships to Herbert's Billiards in Secaucus, NJ. Since this event was a state championship, the field was open to WPBA Touring Pros and one of the most dominating touring pros in the game made her presence known.
Karen Corr, ranked #2 on the WPBA Tour, cruised through Saturday play undefeated and was left as one of the four players on the winners side Sunday. After a hill-hill win over fellow WPBA star Julie Kelly, Corr crushed Carol Clark 7-0 for the hot-seat. Clark could take consolation in the fact that she had already clinched the WPBA qualifier with her guaranteed finish of a third place or better.
After the loss to Corr, Clark took the trip to the one-loss side where Val Finney was waiting. Finney had defeated Clark for the hot-seat last month at the NJ State 8-Ball Championship and while this matchup was 9-ball, the result was no different. Finney rolled to a 7-1 win over Clark setting up the final match between Corr and Finney.
Finney is one of the players making a run at the WPBA Tour this year, and Corr might have been looking at this match as a chance to send a message to Finney as to just how tough the WPBA touring pros can be. Corr dominated the final match and easily won 9-1.
Corr earned $600 for first place, her second straight NJ State 9-Ball Crown. Finney settled for $475. Clark and Brenda Heras filled out the top four spots.
The JPNEWT Tour will be at The Pocket Billiard Lounge in Binghamton, NY on October 2nd-3rd for The Billiards Workbook NY State 9-Ball Championships.
Complete Results:
1st Karen Corr $600
2nd Val Finney $475
3rd Carol Clark $325 + qualifier
4th Brenda Heras $235
5th/6th Morgan Steinman, Julie Kelly $150
7th/8th Fran Crimi, Kelly Fisher $75
Photo courtesy of WPBA