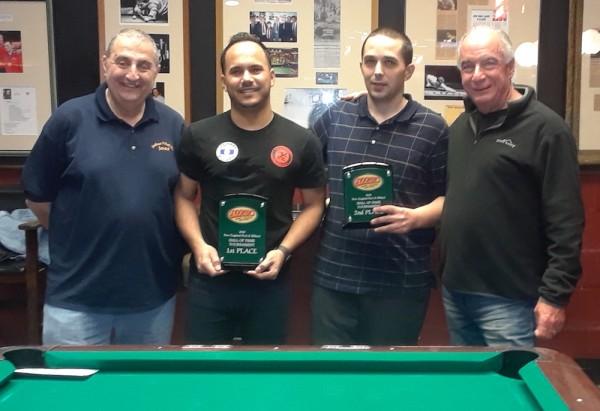 Mike Zuglan, Raphael Dabreo, Tom D'Alfonso and Snookers Owner Steve Goulding
Raphael Dabreo
earned his first career Joss NE 9-Ball Tour win over the weekend of March 2-3 with an undefeated run at the 10th New England Hall of Fame 9-Ball Open at Snookers Billiards in Providence, RI.
After a hill-hill tester against
Steve Mack
in his second match of the day on Saturday, Dabreo finished day one of this event with a 9-5 win over
Qais Kolee
and then a 9-3 win over
Marko Clarke
. Joining Dabreo on the winner's side on Sunday were Tom D'Alfonso,
Austin Ross
and
Zion Zvi
. Dabreo sent Zvi to the one loss side Sunday morning 9-6 and then took the hot-seat with a 9-3 win over D'Alfonso.
Ivaylo Petrov
had lost to
Pat Fleming
midway through Saturday play, but bounced back nicely with six straight match wins on the left side of the board. Petrov would settle for third place though, as he finally lost to D'Alfonso 7-3 in the semi-final match.
Dabreo came out on fire in the first set of the finals, taking a quick 3-0 lead. D'Alfonso then came back to win five straight racks for a 5-3 lead. After Dabreo tied things back up at 5-5, the match would be tied at 6-6 and 7-7. D'Alfonso got to the hill at 8-7, but a scratch on the break led to Dabreo running that rack to tie things again at 8-8. Dabreo came up dry on the break at hill-hill, but a D'Alfonso safety on the 1-ball left Dabreo the opening he needed and he ran that rack for the 9-8 win in one set.
Sunday's second chance tournament saw
Ben Werblow
go undefeated with wins over
Joe Darigis
for the hot-seat and again in the finals for the victory.
The Joss NE 9-Ball Tour will be back in action this weekend (March 9-10) at Trick Shot Billiards in Clifton Park, NY.