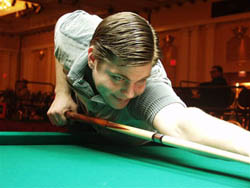 Mike Davis
The Falcon Cue 9-Ball Tour is at Orange Ball Billiards in Rockville, MD this weekend for a $3000 added event.
The initial field of 66 players in the Open event has now been narrowed to sixteen players with half of them undefeated.
Winners side matches on Sunday morning will be Mike Davis vs Jordan Palmeri, Brandon Shuff vs Nick Prinsloo, Pooky Rasmeloungon vs Alan Duty and Brett Stottlemyer vs Kevin West.
Meanwhile, on the one-loss side, the matches will be Alvin Thomas vs Jim McAdams, Andy Lincoln vs Mike Pate, Shaun Wilkie vs Tommy Cooke and Rob Palucho vs Richard Masterson.
We will have complete results from this event on Sunday evening.
Photo courtesy of Diana Hoppe - Pool Pics by Hoppe